MONSOON: The pattern has now developed
Posted on Jul-05-2017 at 16:31:00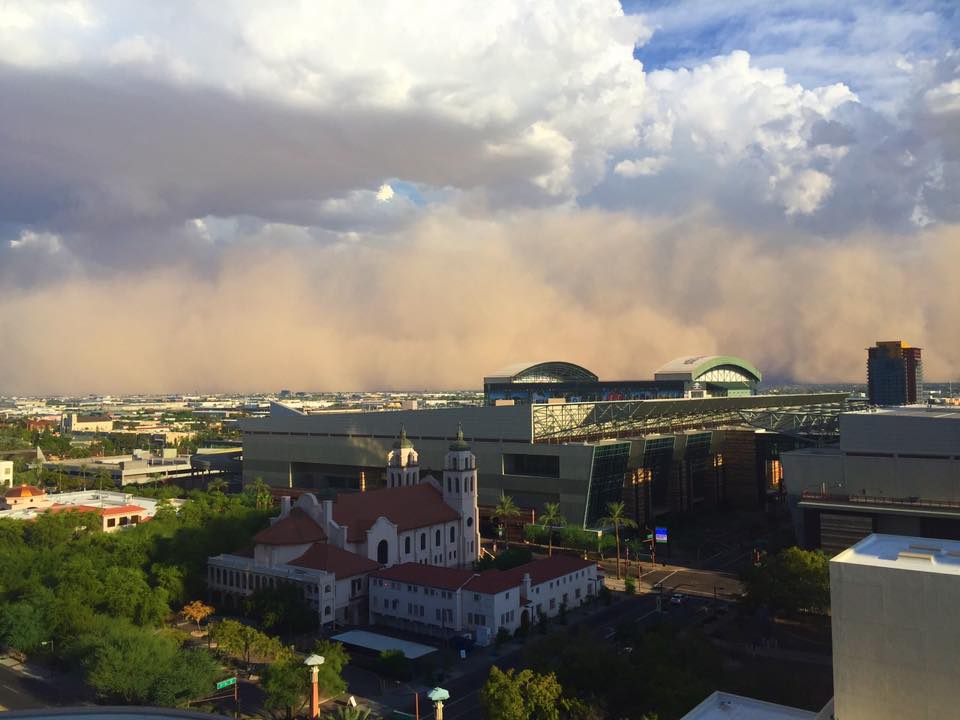 It's here, the monsoon pattern at least! Latest satellite imagery clearly shows high pressure sitting near the Four Corners which is right where it should be during monsoon.
As air flows clockwise around the area of high pressure, winds across Arizona start coming out of the east/southeast which pulls moisture into the region. As a result, expect to see the dew point slowly rise over the next several days.
This all means one thing: the chance of storms is on the rise!
[Read more: What exactly is dew point]
As a result, here is a breakdown of the main threats Thursday through the weekend:
Thunderstorm chances on the increase: As moisture continues to increase across the state, expect to see additional thunderstorm development, especially across the northern and eastern portion of the state. Here in the Valley, there is a slight (10-20%) chance of afternoon/evening thunderstorms Friday through Sunday. Any storms that form will be capable of producing very strong winds and deadly lightning. Storms, for the most part, will be moving from east to west.
Dust storms possible: It has been very dry in/around the Phoenix valley over the past couple months, which means the chance of dust storms will be high this weekend. As thunderstorms dissipate east/southeast of the Valley, expecting strong outflow winds to move into the Valley during the afternoon/evening hours dropping visibility due to blowing dust. Since storms will generally be moving from east to west, the chance of a massive wall of dust moving into the Phoenix valley is reduced but still something to watch closely, especially if you are planning to travel between Phoenix and Tucson where there could be a large wall of dust.
Latest weather models are indicating that the monsoon pattern will likely stay in place for a few weeks meaning the chance of storms will continue right through next week.
Of course, it is important to remember, this time of year is very hard to forecast even a couple days out.
If you have any weather questions, be sure to send them my way via e-mail or tweet me @mattpaceweather