FRIDAY: Monsoon talk
Posted on Jul-07-2017 at 11:01:00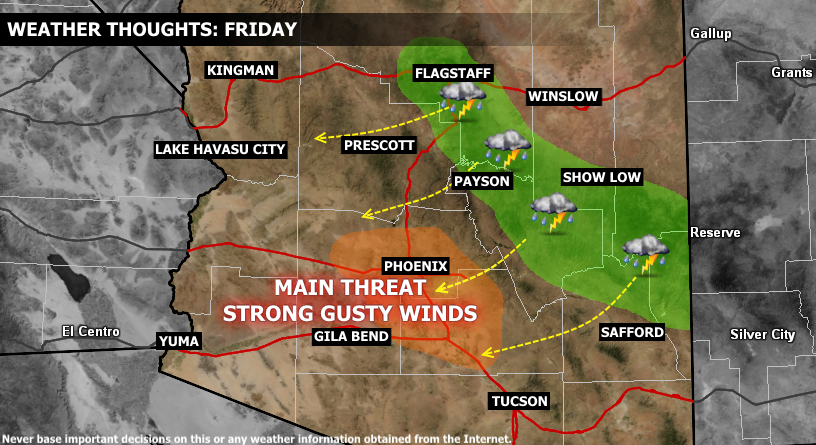 Yesterday was a slightly more active day around Northern and Eastern Arizona, and even a trace amount of rain fell in some locations of the central and western portion of the Phoenix Valley.
Today, the monsoon high continues to be anchored over the Four Corners which is resulting in air flow across the state moving from east to west. This wind direction is favorable to pull moisture into the region as well as move storms that form over the mountains closer to the Phoenix valley.
The one thing lacking today in Phoenix, moisture. While moisture content has risen slightly, for monsoon standards, it is still fairly meager. As a result, the main threat today will be strong gusty winds.
Expect storms to develop in the mountain regions of Northern and Eastern Arizona early this afternoon. These storms will generally move to the WSW. As storms move off the mountains and begin to dissipate, strong outflow winds will likely move into the northern and eastern portions of the Valley. This could lead to some areas of blowing dust.
Typically, outflow winds from the NE/E direction, like we will see today, do not create large towering walls of dust moving into the Valley; however, we could see dust issues further down the I-10 near Casa Grande this afternoon/evening.
As far as storm chances in the Valley, as noted above, moisture is still fairly low meaning any storms that do form will produce very little rain. Instead, dry lightning and strong winds will be the main threat here in the Valley. As we move into Sunday and Monday moisture will begin to increase, which will increase the chance of more substantial rain with storms that develop.
Stay tuned!