SATURDAY: A more active day possible
Posted on Jul-08-2017 at 09:24:00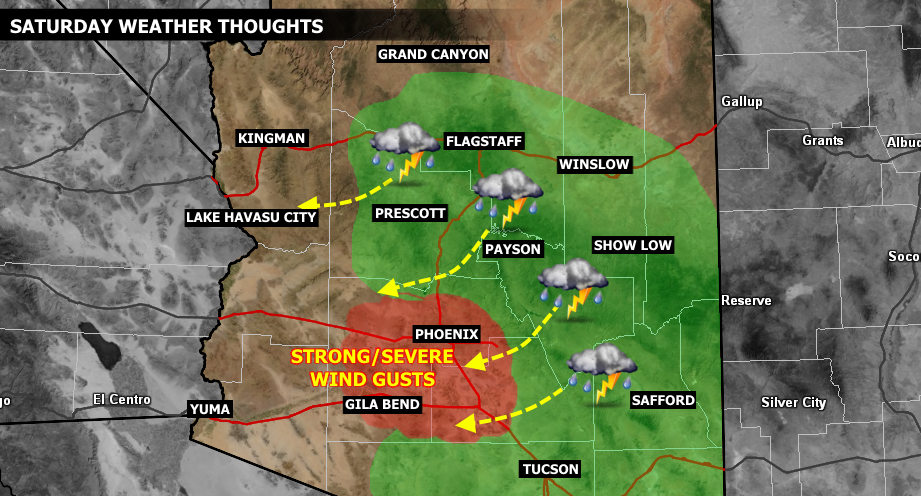 Gusty outflow winds and some isolated areas of rain spread across the Valley yesterday afternoon and evening as thunderstorms collapsed across the far northern and eastern portions of Phoenix.
The same pattern is in place for today, with high pressure continuing to sit along the northern border of Arizona. This will continue the east to west flow across the region. The main difference for today is slightly more moisture is available.
As a result, expect thunderstorms to once again form across the higher elevations of Northern and Eastern Arizona early this afternoon. Some of these storms could be strong to severe, particularly regarding wind speeds.
These storms will move toward the WSW and eventually begin to impact the Valley later this afternoon into the evening hours.
As was the case yesterday, the primary concern is going to be strong/severe outflow winds with these storms. While moisture has increased over the past 24 hours, the moisture at/near the surface is still relatively limited. This type of condition commonly results in thunderstorms that produce only brief periods of moderate rain but extremely strong, potentially damaging winds.
At this point, it looks like the favored areas for seeing rainfall in Phoenix will be in the northern and eastern portions of the Valley. However, strong outflow winds are likely to sweep across the entire Valley. As noted yesterday, not expecting a large wall of dust as the winds will be coming from the NE/E, but some areas in the Valley could see isolated areas of quickly lowering visibility due to blowing dust.
A quick note for tomorrow, it looks like it could be a much more active day! Stay tuned!