SUNDAY: Dust storm chances on the increase
Posted on Jul-09-2017 at 10:05:00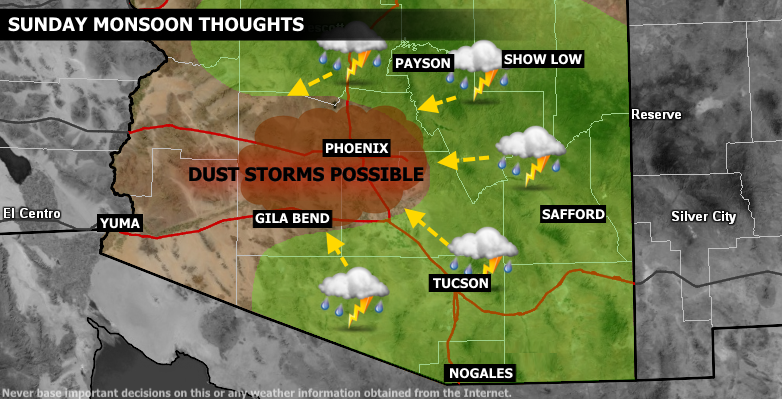 Yesterday was slightly less active in the Valley than forecasted. Outflows did move through the region but not as strong as expected. Some locations in the far north and south portion of the Valley did indeed see some rain but for the most part nothing too impressive.
Today, if you step outside, you can certainly feel that the humidity has increased and that is seen in the latest observations as well, especially across the southern portion of the state.
As a result, expecting numerous thunderstorms to develop well south of Phoenix this afternoon. These storms will likely produce strong outflow winds that could move NNW up the I-10. This is a prime pattern to see large dust storms move into the Phoenix valley from the south. This is something that will need to be watched very carefully this afternoon as the chance of this happening will depend on the exact locations that storms form. As a result, if you are planning to travel down the I-10 this afternoon be sure to check the weather before leaving.
Storms are also expected to develop across the northern and eastern portion of the state. However, they are not projected to be quite as strong or widespread as the past several days. Outflows from these storms could still move E and NE into the Valley later this afternoon producing gusty winds.
With outflows possible from a couple of directions this evening in the Valley, we could see some isolated storms develop as outflows begin converging into each other. If storms do form in the Valley this afternoon, the main threat will once again be very strong winds.
This active weather pattern will continue right through the upcoming week so hopefully, within the next seven days, the Valley will see some more widespread rainfall.