SATURDAY: Strong outflow winds likely
Posted on Jul-15-2017 at 11:56:00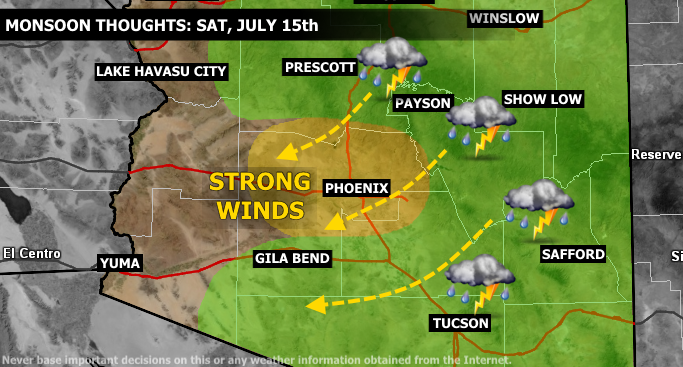 What a day yesterday! Strong outflow winds pushed through the Valley yesterday evening resulting in blowing dust dropping visibility to below a quarter mile in some spots. A tornado warning was also issued for a storm near Marana, just north of Tucson. Despite a very active day, only a few isolated spots saw rain within the Phoenix Valley.
So… will anyone see rain today?
Moisture is still plentiful in northern and eastern portions of Arizona which will result in thunderstorms developing this afternoon across the mountainous areas. With high pressure sitting just NW of Arizona, storms over the higher terrain will move to the SSW and begin to approach the Valley later this afternoon. As a result, just like we saw yesterday, strong outflow winds from the N/NE will be very likely across the Valley.
These outflows could result in isolated storms developing within the Valley later this afternoon; however, expecting the activity to stay fairly isolated in nature. Any storms that do form will be capable of producing very heavy rain and strong winds.
Overall, weather-wise, a fairly similar day today when compared to yesterday with regard to storms in the Valley. Stay tuned though as tomorrow looks like it could be much more active.