SUNDAY: Isolated to scattered storms this afternoon
Posted on Jul-16-2017 at 14:21:00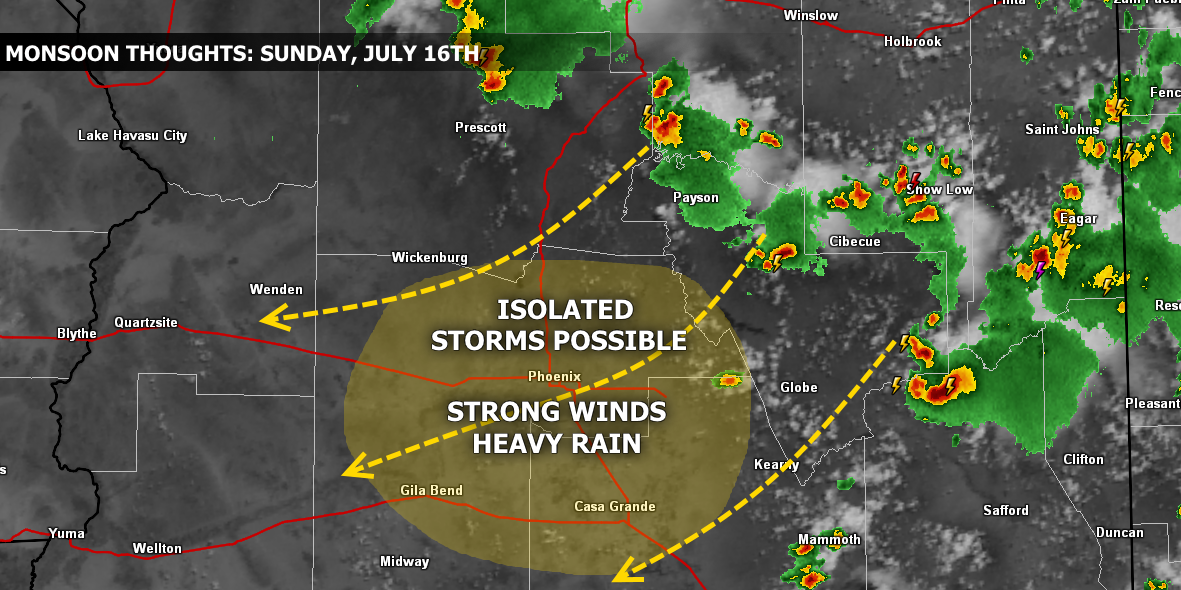 Strong to severe thunderstorms moved into the Phoenix valley yesterday afternoon producing strong winds and very heavy rainfall. In fact, the Peoria Regional Preserve picked up 0.71 inches of rain. Phoenix Sky Harbor officially measured a trace of rain.
As for today, thunderstorms have already developed across the high country well north and east of the Valley. As was the case yesterday, these storms will move toward the SW and approach the Valley later this afternoon.
With somewhat similar conditions as yesterday, expecting storms to once again form in the Phoenix valley as outflows move/intersect across the region. Since moisture has increased across the area, any storm that form will be capable of producing extremely heavy rain. As a result, the National Weather Service has issued a Flash Flood Watch for the area through Monday evening.
As far as coverage is concerned, currently looking like storms will once again be isolated to scattered. The northern, eastern and northwestern portion of the Valley will have the highest chance of seeing storms, but strong/severe isolated storms are possible basically anywhere within the Valley.
Depending on how active tonight is across the region will determine just how active tomorrow afternoon will be. Stay tuned.