Strong/severe winds possible later today
Posted on Sep-04-2017 at 08:30:00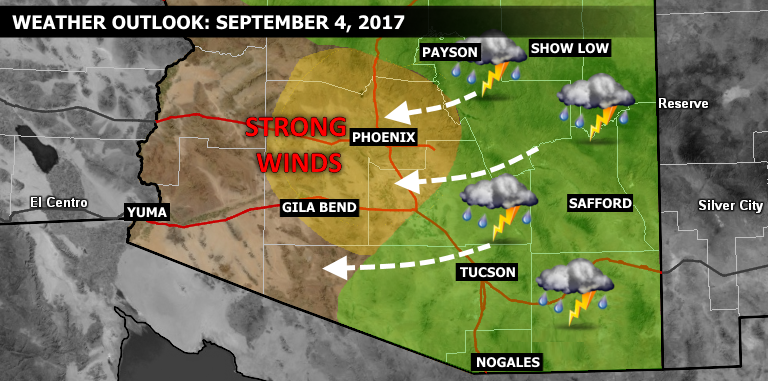 The monsoon has been relatively inactive lately, but that could change heading into this afternoon.
High pressure is currently centered over Utah but stretches from the Four Corners back through the Great Basin. This set-up is resulting in an easterly flow across the eastern and central portions of Arizona.
With plenty of moisture still in place from the moisture surge that Tropical Storm Lidia produced, thunderstorms are likely to form in the higher terrain north and east of the Phoenix valley this afternoon. These storms will move WSW and likely produce strong wind gusts that will move into the Valley.
The northern and eastern portions of the Valley have the greatest possibility of seeing outflow winds of 40+mph this afternoon/evening, but weaker outflow winds are possible across the entire Valley. These winds could generate areas of blowing dust so use caution if you are planning to travel.
As for thunderstorms, some of these outflows could generate isolated storms in the Valley, especially if outflows from storms to the north converge with outflows coming from the east. Any storms that do form will generally be moving WSW and be capable of producing strong to severe wind gusts.
Bottom line, if you have outdoor plans this afternoon and evening pay attention to the weather. Remember "if thunder roars, go indoors"! If you are close enough to hear thunder, you are close enough to be struck!