Posted: June 14, 2012, 4:19 pm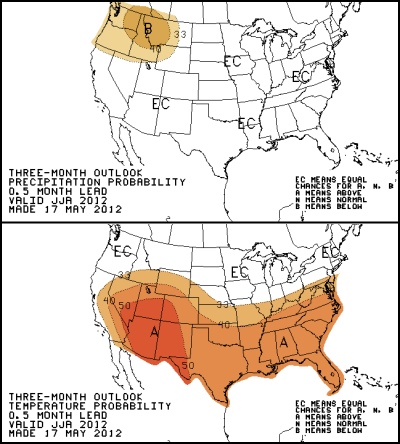 While it is extremely difficult to forecast on a long term basis, the Climate Prediction Center issues long term forecasts based on weather models, examining current conditions/patterns and many other factors. Their prediction for the June, July and August time frame shows an equal chance of below normal precipitation, normal precipitation and above normal precipitation across the southwestern United States. In other words, no current patterns are being observed that would indicate what the precipitation across the southwest United States might tend to be resulting in this equal chance forecast. One thing to keep in mind is that the precipitation that occurs during the monsoon season is normally rather isolated so locations only a few miles or less apart can have extremely different amounts of rainfall. Their temperature projections for June, July and August indicates a 50% chance of above normal temperatures through the forecast period. So while precipitation does not show a strong pattern either way there does appear to be a good chance of above normal temperatures.
Again, keep in mind forecasting even a day or two out during the monsoon season can be very difficult due to the small scale features that come into play during the season to enhance or hinder thunderstorm development, so these long term forecasts should be looked at as purely a basic reference.
Comments or questions? Contact us by clicking
HERE
.